Google's Pixel Drop December 2022 Update is Live Now for All the Pixel Smartphones Under Google's Software Support. With This New Update, Google Team has also Added Tons of New Features & New Wallpaper. One of the Key Highlights of this New Update is Google's Pixel Live Bloom Wallpapers Which is Now New Parallax Effect in the Wallpapers Here We Will Guide You On How You Can Download Google Pixel Live Bloom Wallpapers For Any Android Phone
Google's Pixel Drop December 2022 Update
As We Talked About the New Set of Wallpaper is Part of Google's Pixel Drop December 2022 Update. Apart From Wallpaper, This Is the Biggest Pixel Drop Update for Pixel Users. The December 2022 Pixel Drop Update is Live For All the Eligible Pixel Smartphones Including Pixel 4a, Pixel 5, Pixel 5a, 5a 5G, Pixel 6a, 6, Pro, and Pixel 7, 7 Pro.
If you own a Pixel phone, you will soon receive an update with a tonne of new features. However, compared to other Pixel phones, the Pixel 7 and Pixel 7 Pro has a few more capabilities.
The Update Highlights Include Google One VPN, Clear Calling for Noiseless & Clear Interaction, New Privacy Settings, and New Live Bloom Wallpapers, Sleep Profiles, Smart Recorder & Few More.

Google Pixel Live Bloom Wallpapers
The New Set of Live Wallpaper is Now Available in the Latest Pixel Wallpaper App Available on Google Play Store for Pixel Family. Do Note That, For Pixel Smartphones, They Don't Need to Follow the Below Steps to get the Bloom Wallpaper Just Straightaway Update to Latest Pixel Drop & You'll get All the Wallpapers & For the Non-Pixel Smartphones Follow the Below Guide as Mentioned. These are Some Wallpapers Google Have Released with This Update:
Boat Orchid
Flamingo Flower
Maki Dahlia
Persian Buttercup
The Four New Wallpapers are Dynamic One So they Change Colors throughout the Day. Each Wallpaper created has Different Dynamic Shades & Reset We have Attached the Preview of the Wallpapers Below Available in Light & Dark Theme.
Wallpapers You May Like:- MIUI 12.5 Enhanced Edition Third Batch Devices List
Google Pixel Live Bloom Wallpapers Preview
Alert: The Above Images Shown For Preview Only Do Not Download From above. Preview of Images is not in the Full Resolution. Download Google Pixel Live Bloom Wallpapers From the Below Link
How to Install Google Pixel Live Bloom Wallpapers On Any Android Phone
Tap On the Below Download Link
After Downloading the Wallpaper Zip File
Now Download the Google Wallpaper Application From Google Play Store
After the Google Wallpaper App is Installed
Open the File Manager App On Your Device & Extract the Zip File
Then Open the Folder You Have Extracted > Now Install the Pixel Live Bloom Wallpaper APK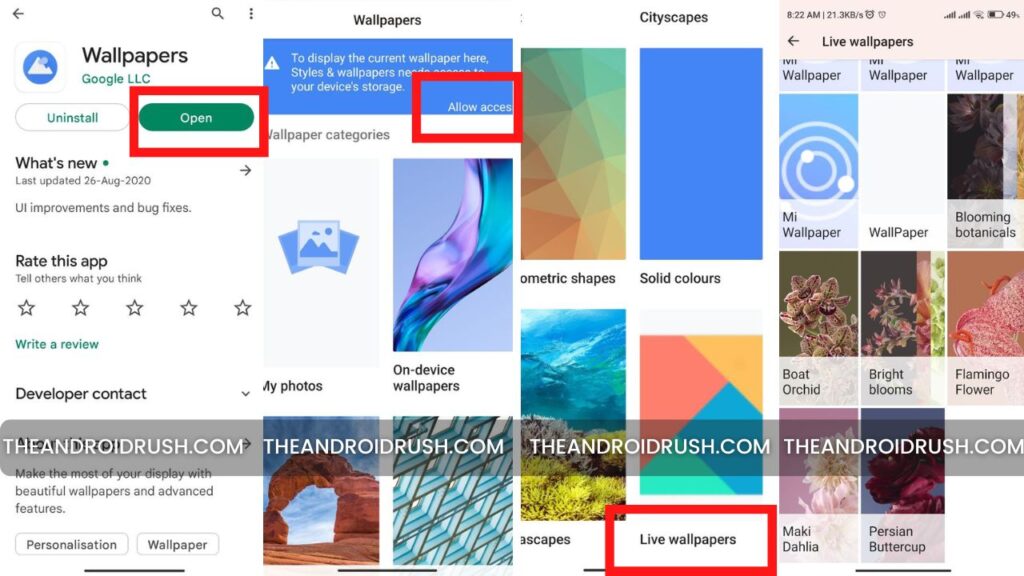 Then Open the Google Wallpaper App > Scroll Down then Tap On Live Wallpapers Section
There You'll See All the Pixel Live Bloom Wallpapers > Now Just Select Any of the Wallpapers & Tap On Set Wallpaper It will Ask For Home Screen Only or Homescreen & Lockscreen Both Select As per your Preference & Boom
You Have got Latest Pixel Bloom Wallpaper On your Android
Bonus Tip: If You Feel Your Phone is Lagging Due to Wallpaper Just Reboot your Phone Once It Should Get Fine
[Do Note that the Zip File has been Protected With Password & To Extract Enter Password:- THEANDROIDRUSH.COM]
There are 4 Live Wallpapers that You will get From the APK File and Do Let Us Did You Like These New Wallpapers Share Your Reaction in the Comments
Join Our Official Telegram Group Now For Any Doubts/Queries
If you have any queries, you can drop the comments in the comment box & Find More Stock Wallpapers Collections From Here
Turn On the Notification bell and Subscribe to The Android Rush for More Coverage
You Can Also Join Us On YouTube, Google News, Instagram, Facebook, Twitter, Telegram, & Pinterest For All the Latest Android Updates, News, Tips & Tricks & More
More Related Articles to Check:-